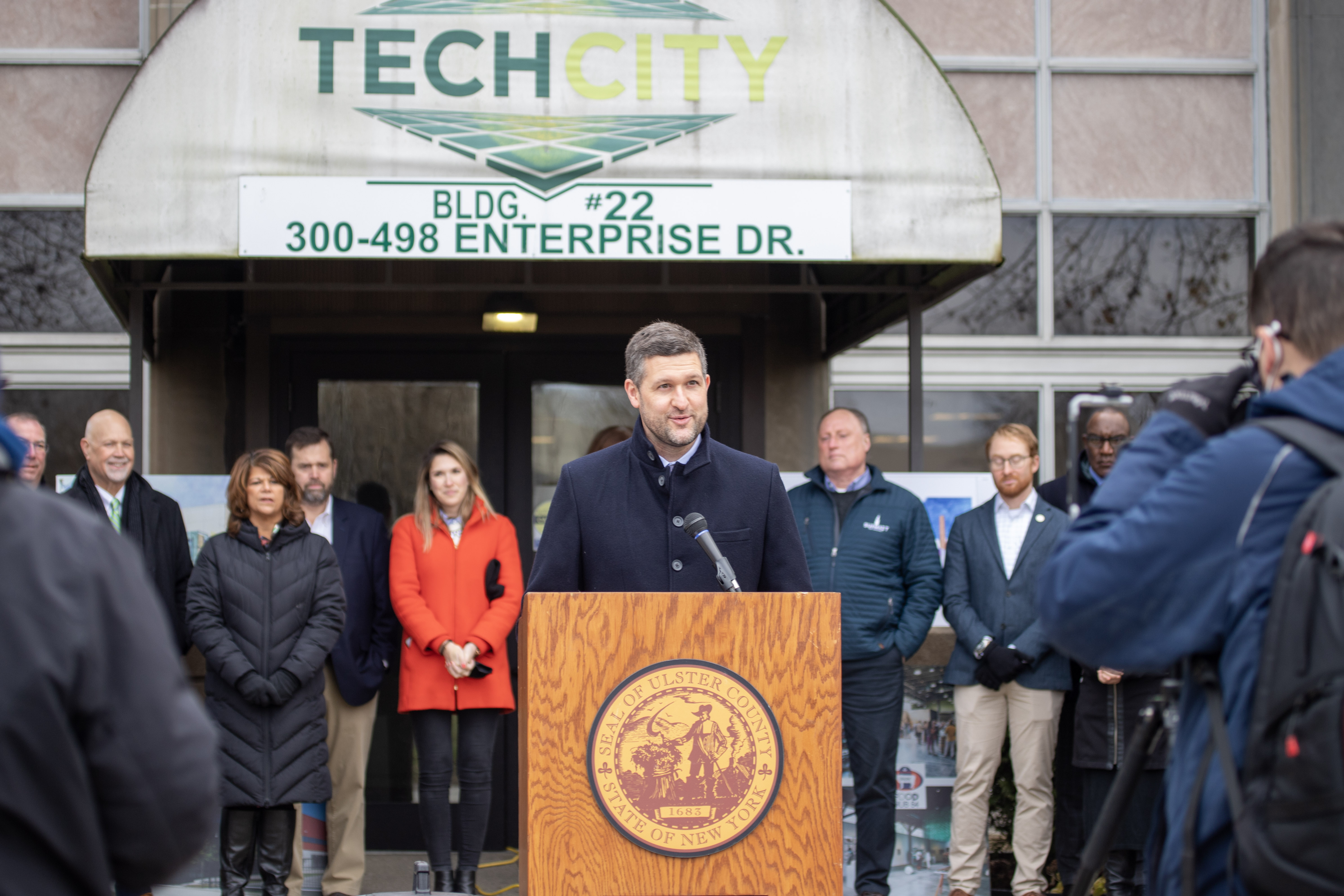 Posted December 8, 2021
National Resources outlines exciting long-term vision for campus, highlights potential to attract high-growth businesses from priority sectors outlined in the County's "Ulster 2040" Economic Development Plan to include light manufacturing, food and agriculture, film and television, arts and culture, and distribution
KINGSTON, NY – Joined by members of the Ulster County Legislature and the Ulster County businesses community, Ulster County Executive Pat Ryan today welcomed the principals from National Resources for an overview of the firm's past projects and their overall plans for the former Tech City properties, which National Resources intends to purchase following the completion of foreclosure proceedings by the County.
"We all know that this site was once the center of Ulster County's economy during IBM's tenure, and under National Resources' future stewardship, I'm optimistic that the site will come back to life as the center of our County's new economic future," Ulster County Executive Pat Ryan said. "The vision laid out by National Resources is exciting not only because it promises to create good new jobs and generate significant new economic activity, but also because it's a monumental step towards realizing the bold vision we outlined in our Ulster 2040 strategy." 
The purchase by National Resources, which is part of a court-ordered settlement agreement between former owner Alan Ginsberg and Ulster County, would open up 18 parcels totaling over 160 acres in the center of the sprawling industrial site for redevelopment for the first time since IBM's departure in the mid-1990s. 
At the press conference, National Resources provided a broad overview of the high-growth economic sectors they expect to see take root as they complete the environmental cleanup work in the months following their purchase. Over the next five to ten years, the group expects to invest in excess of $200,000,000 to improve and revitalize the site, which they believe will lead to the creation of up to 1,000 good-paying jobs for Ulster County residents.
The proposed uses for the site, which are consistent with a 2009 master plan adopted by the Town of Ulster, include light manufacturing, food and agriculture, film and television, arts and culture, and logistics and distribution. In addition, National Resources expects to develop a portion of the site with multi-unit workforce housing, citing the urgent need within the County for quality, affordable housing and referencing the inclusion of housing as one of the permitted uses under the 2009 master plan. They also indicated a desire to involve educational and workforce agencies in the site's redevelopment, since they expect future tenants will require a ready supply of well-trained workers – a resource many employers in the region are finding to be in short supply.
"Back in September, when we first expressed interest through an RFEI issued by the Ulster County Economic Development Alliance (UCEDA), we outlined a series of potential uses we believe fit with the demand in the marketplace for a property like this," Executive Vice President at National Resources Lynn Ward said, "Those uses are what we hope to bring to the site once we complete the necessary site work in 2022, and through those future tenants we fully expect to become the major center of employment and economic activity for Ulster County and beyond."
"While we are excited about the businesses that will land at this site in the future, the real story we'd like to get out there is about a three month push we've been working through with the County and the Town of Ulster to take back their economic destiny," President of National Resources Joseph Cotter said. "We are excited to work closely with our public sector partners here, as we have in other locations, to turn this underused site into an engine for job creation and economic growth. While we recognize that there is lots of work still ahead, we are excited for the next chapter of this work that will see the birth of iPark 87 here in Ulster County."
"This July, I was proud to stand with many of you here today at the asbestos-ridden former TechCity site to lay out our plan to remediate, redevelop, and restore this site as the heartbeat of economic growth and job creation in Ulster County. Since then, I've fought to secure the funds needed to put our plan in motion," Senator Chuck Schumer said. "Unveiling the new iPark87, creating hundreds of jobs, and investing hundreds of millions in the site was exactly why I have pushed so hard to clean up the asbestos and bring Ulster County's economic engine back to life."
"I would like to enthusiastically welcome National Resources to Ulster County," Ulster County Legislator Brian Cahill said. "National Resources is an ideal partner for Ulster County and our shared vision for Economic Development. They have demonstrated with previous and current projects, the ability to bring neglected and underutilized industrial sites back to life. I am looking forward to a long, successful relationship."
"The redevelopment of the former Tech City was long overdue," President and CEO of the Hudson Valley Economic Development Corporation Mike Oates said. "It took the leadership of Ulster County Executive Pat Ryan to assemble the right team to make this opportunity a reality. Working with Majority Leader Schumer, NYS Empire State Development, the County Legislature, Town Supervisor Jim Quigley and others, we are creating the model of public private partnership that will bring high quality jobs and investment to the Hudson Valley for decades to come. National Resources has the proven track record of success and expertise that will help drive that redevelopment forward."
"Stockade Works and Upriver Studios are thrilled to be part of the revitalization of the former IBM Kingston campus helmed by Joe Cotter and Natural Resources," said Mary Stuart Masterson, Founder and President of Upriver Studios and Stockade Works. "Joe and County Executive Pat Ryan understand that the film and television industry will transform our local economy by creating not just jobs but careers, by bringing in productions of all sizes that will spend their budgets locally, and most importantly -- by showing the next generation that they can find meaningful work and a future in their hometown. It used to be that everyone in the Hudson Valley knew someone who worked at IBM's Kingston campus. Now with the bold leadership from Ulster County, the expertise and resources from Joe Cotter, and their partnerships with Stockade Works and Upriver, we will soon all know someone who is working at the Enterprise Campus, but this time it will be on a film or television show."
"Bard College's close proximity to Kingston has enabled us to establish longstanding and substantial connections to Ulster County through our students, faculty and staff, and programs," said Malia DuMont, Bard College Chief of Staff and Vice President for Strategy and Policy. "We are excited about the opportunities for innovation and collaboration represented by the Ryan administration's vision for redevelopment of the entire former IBM site and look forward to the tremendous potential for partnership ahead."
"I couldn't be more thrilled to hear the announcement of the redevelopment of the former IBM campus under the direction of Joe Cotter and Lynn Ward from the National Resources Group," President and CEO of Rondout Savings Bank Cheryl Bowers said. "This is the first time in two decades that the plan is constructive, collaborative and designed to improve quality of life and quality of business for Ulster County residents. I applaud County Executive Ryan for getting this to the finish line. Through his leadership and commitment, he was able to accomplish what no other leader could."   
National Resources also provided an overview of their history and development portfolio throughout the region. Their past projects under the iPark brand include iPark 84 at the former IBM campus in East Fishkill, iPark Hudson at the former Otis elevator facility in Yonkers, a medical-office focused iPark Norwalk campus in Connecticut, and iPark Lake Success at the former Lockheed Martin facility in Long Island. More information on National Resources and its work is available at www.nationalresources.com. 
In addition to the information provided during today's press conference, Ulster County also launched a new website to provide all county residents with full transparency into the recent settlement agreement at the site, details about the proposed transaction, and ongoing plans for the site's revitalization. The website, which can be accessed at www.ulstercountyny.gov/economic-development/IBMsite, includes key documents and an extensive Frequently Asked Questions (FAQ) section to inform public discussion. At its December 2nd meeting, the Ulster County Legislature set a public hearing for 6:30pm on December 21st, which will provide an opportunity for members of the community to provide input prior to the site's purchase by National Resources. 
###