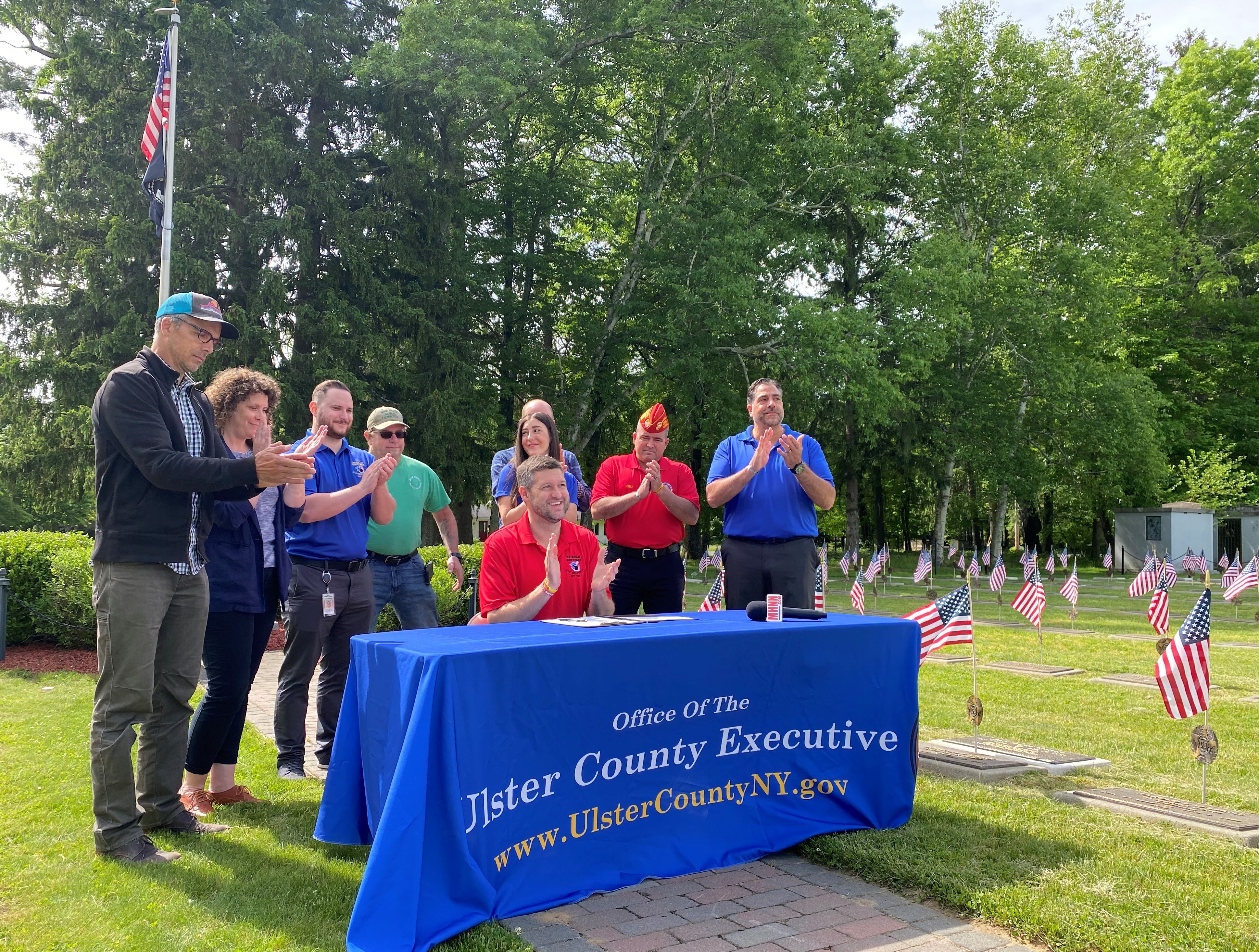 Posted May 27, 2022
Once completed, the expanded Ulster County Veterans Cemetery will be able to accommodate approximately 3,000 burial spaces for veterans and their spouses 
Included in the expanded Veterans Cemetery is a Memorial Pavilion, which will provide a location for interment services and a facility for family and friends of the deceased to honor their loved ones
KINGSTON, N.Y. - Ulster County Executive Pat Ryan announced today that he signed a resolution to expand and improve the county's Veterans Cemetery. The need for additional areas for interment was first proposed in 2019 by a local veterans' committee. Last week, the Ulster County Legislature approved funding for an expansion to the veterans cemetery located at the New Paltz Rural Cemetery in an area near the existing veterans' burial grounds. Once completed, the expanded Ulster County Veterans Cemetery will be able to accommodate approximately 3,000 burial spaces for veterans and their spouses, an investment to provide for county veterans for up to 100 years. Included in the cemetery expansion is funding for a Memorial Pavilion, which will provide a location where family and friends of the deceased can gather to honor their loved ones.
"This is an important moment, where we're doubling down on our pledge as a county that every veteran from our community has a place to be laid to rest with dignity; where their family, their friends, their comrades in arms can come and take time to honor and remember them," County Executive Ryan said. "This has been a long time in the works and a lot of people brought this to fruition. I want to thank the whole legislature, both as County Executive and as a veteran, for making sure we have the funding to do right by our veterans."
"I commend all levels of County Leadership for their support, compassion, and reverence for our comrades who have given of themselves to protect the rights and privileges that we enjoy today," Third District Commander of the American Legion for the Department of New York Leonard Beauliel said. Commander Beauliel is also the Past Ulster County Commander.
"I am proud to support this project to honor Ulster County veterans and their families," Legislator Craig Lopez, Deputy Chair of Health, Human Services and Housing, said. "We must continue to prioritize the dignity and respect due those who serve and protect our county and our country."
"This investment by Ulster County in an improved and expanded final resting place for Ulster County's veterans conveys our thanks to those who have risked or given their lives in service and offers solace to veterans and their families who have suffered trauma and loss due to that service," Ulster County Legislator Kathy Nolan said. "The Memorial Roll of Honor constructed several years ago in front of the Ulster County Office Building on Fair Street offers our veterans a space of remembrance and honor that touches every member of our community who encounters it," Legislator Nolan continued, "and I fully expect that our new veterans' cemetery will express the same feelings of honor and deep appreciation. The project has been a long time coming, and I am proud to have been involved from the beginning. It's really great to be getting shovels in the ground right at Memorial Day."
"Ulster County has a long history of taking care of its veterans, and the approval of this expansion project shows just how much we care for the men and women who've served this great nation. I am truly proud that we will be building an honorable and dignified burial place where our heroes can be laid to rest," Director of Veteran Services and Retired United States Air Force Command Chief Master Sergeant Mark Cozzupoli said.
The Ulster County Veterans Cemetery was established on November 11, 2008. Ulster County veterans are eligible for a burial and grave marker at no expense, upon request of next of kin. The veteran must have served in the Armed Forces of the U.S. or National Guard, received no less than a "general" discharge and been a resident of Ulster County. Ulster County pays for the cost of the veteran's burial plot, grave marker footing and interment.
Local funeral directors may contact the Ulster County Veteran Services Agency for more information on the process to request a veteran plot by calling (845) 340-3190. 
There will be a symbolic groundbreaking for the Ulster County Veterans Cemetery expansion during a Memorial Day Ceremony on Monday, May 30th, at New Paltz Rural Cemetery, 81 Plains Road in New Paltz, at 11AM.
###